Product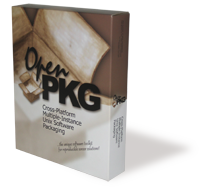 What is OpenPKG?
OpenPKG is the cross-platform multiple-instance Unix software packaging facility
. OpenPKG is the world leading instrument for deployment and maintenance of
Open Source
software when administration crosses Unix platform boundaries. OpenPKG provides over 1000 portable and easy to install Unix software packages for use on two dozen major Unix server platforms. The unique OpenPKG architecture leverages proven technologies like
Red Hat Package Manager
(RPM) and
OSSP
and
GNU
components to establish a unified administration environment, independent of the underlying operating system.
Why to use OpenPKG?
IT managers appreciate OpenPKG's high potential for cost reduction. Their quality assurance is supported by OpenPKG with integrity verifications and digital signatures. With OpenPKG they can bridge between Open Source and business.
Developers are able to fast and flexibly build their software development environments with OpenPKG. Their acquired results can be later exactly reproduced in production environments.
System Integrators are able to master the complexity of Open Source software which comes along with OpenPKG's flexibility. They can apply the same technology for both Open Source and Closed Source software.
System Administrators profit from the unique possibility of installing multiple instances and the Unix vendor agnostic cross-platform support of OpenPKG. Additionally, the uniform and pre-configured OpenPKG software packages ease their everyday life.
What to get with OpenPKG?
Features: Fully cross-platform solution with the possibility to install multiple instances on a single underlying Unix system. Operating System interference and intrusion minimized to just 5 tiny connection points. Includes an abstracted and powerful run-command facility.
Packages: Streamlined software packaging technology based on proven RPM, GNU and OSSP software components. Packages provided with build-time variations for maximum flexibility and bundled with useful and secure pre-configurations. OpenPKG-CURRENT provides over 1000 packages.
Platforms: Portable across all major Unix platforms. Officially available for FreeBSD, NetBSD, Sun Solaris, Debian GNU/Linux, Fedora Core, RedHat Enterprise Linux, Novell SUSE Linux, Gentoo Linux, Mandriva Linux. Additionally known to work for IBM AIX, HP HP/UX, MacOS X, too.
Licensing: Entirely based on free of charge Open Source software technology and made available under liberal Open Source distribution license. Nevertheless is can be also used for creating Closed Source software solutions.